Faith formation is a lifelong process, primarily focusing on strengthening the transition to the Catholic faith.
It is a form of evangelization, meant to spread the principles of Jesus' teachings and to inspire a personal encounter with Our Lord Jesus Christ.
Faith formation incorporates liturgical, catechetical, and pastoral ministries – to teach and celebrate the Gospel message. Novena Church provides the faithful with the necessary resources to practice and live their faith, through talks, courses, and events.
NOVENA BIBLE APOSTOLATE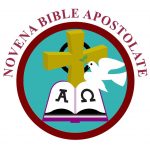 The Novena Bible Apostolate (NBA) was formed with a mission to deepen the faithful's understanding of the Scripture and the Catholic faith. Activities such as Bible studies, events, talks and courses are organized for all who desire to know the Word of God and grow in faith.
Our activities are open to the community of Novena Church and to the faithful from other parishes.
These activities provide opportunities for sharing, fellowship, and collaboration with the hope that through meaningful participation, every member is spiritually enriched, and their faith is strengthened.
For more information, please contact;
Email: novenabibleapostolate@gmail.com
No Greater Love: A Biblical Walk Through Christ's Passion
Thousands sought Jesus during his life. Only a few followed him to Calvary.
What will you do?
Filmed on location in the Holy Land, No Greater Love is a biblical pilgrimage that reveals Christ's amazing love for us. Best-selling author Edward Sri guides you through the last hours of Christ's life. 
You will walk step-by- step with Jesus from the garden of Gethsemane to Mount Calvary. Every step of the way, Old Testament prophecies, messianic expectations, biblical symbolism, and historical context shed light on the mystery of Christ's suffering and death. 
Experience a deeper understanding and appreciation of God's immeasurable and unconditional love for you and grow closer to Jesus.
Session One – The Prayer of the Agony: Jesus in Gethsemane
Session Two – Are You the Christ? Jesus' Arrest and Trial before the Sanhedrin
Session Three – The Trial Before Pilate: Jesus Is Condemned to Death
Session Four – The Death of the Messiah: Jesus Carries His Cross, Is Crucified, and Dies
Session Five – The Seven Last Words: Jesus the Teacher at Calvary
The format each week will be:
Part 1 – Video approximately 30 minutes;
Part 2 – We will continue with smaller breakout groups to review questions, discuss and share with a facilitator.

Speaker     :     Dr Edward Sri

Date           :     5 Thursdays –  2, 9, 16, 23 & 30 March 2023

Time          :     7.45pm -9.30pm

Venue        :     Novena Church (Casimir Godebye room)

Fee            :     $10 ( To be paid on the first session )
Scan QR Code above or register via link: https://forms.gle/gXLezNrTfPLMZ24i7