In addition to liturgical celebrations and Popular Devotion, the sharing
of the faith through the encounter with the person of Jesus Christ is
achieved through the formation of the faithful. As part of its mission
of evangelization, The Novena Church gives priority to faith formation
to provide the faithful with the necessary resources to practice and
live their faith. Look out for notices as well as visit our events page
here regarding upcoming courses and talks.
Novena Bible Apostolate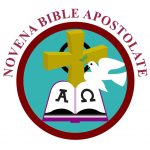 The Novena Bible Apostolate (NBA) organizes Bible studies for all who desire to know the Word of God and to deepen their understanding in Scriptures and the Catholic faith.
Our NBA Team members meet regularly to grow in our faith and to plan courses under the guidance of the Spiritual Director. We also participate in Faith Formation activities of Novena Church as well as the Archdiocese.
Our courses are open to not only the community of Novena Church but also to all other parishes.
All these activities have opened up opportunities for collaboration and sharing that have touched and enriched the life and faith of each and every participant.
Upcoming event : https://novenachurch.com/event/the-pathway-of-life/
Please contact novenabibleapostolate@gmail.com