The Rite of Christian Initiation of Adults (RCIA) is a year-long
programme of religious instruction given to a person who would like to
be initiated into the Catholic Church by Christian baptism or for
preparation of the Sacrament of Confirmation. It usually begins in the
2nd quarter of the year and culminates at Easter with Baptism.
The RCIA at Novena Church is conducted in English and in Mandarin.
New RCIA Journey 2020 – 2021
ENGLISH PROGRAMME
The new RCIA journey will commence on 04th August 2020.
The 2020 RCIA English intake is full, and registrations have closed.
We ask that you pray for our new enquirers.

圣雅丰索堂华文成人慕道团 (CHINESE PROGRAMME)
您想认识天主教会和耶穌基督嗎?
您在寻找什么,您想获得更丰盛的生命吗?
欢迎您来参加 Novena 华文成人慕道团
寻找您的答案。
华文慕道团新一届开课日期:
8月15日(每逢星期六) 时间:下午3点15分至4点30分
线上慕道
邀请您一起连线来看看。
有意参加者, 可向教堂的办事处索取报名表格 或上网
截止日期:7月31日
Starts: 15 August 2020 (Every Saturday afternoon) from 3.15pm to 4.30pm
Venue: Novena Church (Auditorium)
Closing date: 31 July 2020
You may obtain the application form from the Church Office or download the form here.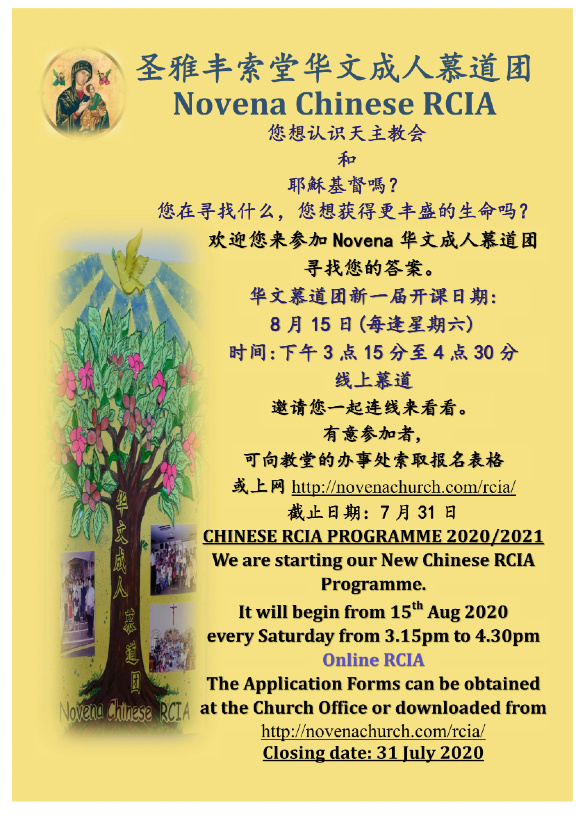 We welcome any feedback or suggestions on the content found on our website.
Please contact us here